Washing Machine Repair in Dubai
Same day we deliver your washing machine in Dubai
Washing Machine Maintenance & Servicing
Washing Machine is an important household item in daily routine. If you are facing any issue about your washing machine. call a best service provider as soon as possible to avoid for further loss. Whether your washing machine won't drain, won't spin, or simply won't turn on, Home Fix can provide regular service or emergency repair to address the problem. Our washing machine repair technicians also provide careful preventative maintenance, which we recommend for any appliances repairing service.
Common Issues Of Washing Machine
It may become a major nuisance and disrupt your home's tranquility if your washing machine is vibrating excessively. It's probably because the washing machine isn't properly leveled or the cushions on the bottom are worn out, or it might be that you need to repair some of the machine's components. Nonetheless, it is very reasonable to seek the assistance of a professional Washing Machine Installation Services technician who can check out the situation and determine the source of the issue.
Unfortunately, the washer won't start:

Power or voltage problems at the wall outlet might be to blame if your washing machine doesn't start up when you turn it on. Examine the machine's motor, cover switch, and timer knobs for signs of malfunction. Find a washer repairman in the area if you need help with the nitty gritty.

The trouble with the spin:

The most common cause of this is imbalance from an abnormally high load. In addition, the drain pump might be to blame; perhaps something foreign has been lodged in there. The sound of mumbling is typical. Similarly, a belt might be the culprit. Finally, the motor can be worn out and in need of replacement. Once again, the issue may be ruled out by service technicians that specialize in washing machine repair.

Washer Leaking Water:

When a washing machine springs a leak, it not only stops doing its job of getting your clothes clean, but it may also cause serious damage to your home. Make sure that the drain pipe and all of its connections are properly tightened. Loose hoses, faulty pumps, and too much detergent are all potential causes of a leaky washing machine. Also, check the drain and clear it out if necessary

.
Washing machine repair service in Dubai and All over UAE
Appliance Repair Shop has dedicated over two decades to perfecting its washing machine repair services in Dubai.The home Fix Each of our team is strong, knowledgeable, and representative of a variety of backgrounds and experiences in fixing washing machine problems. Every time a new generation of washing machines hits the market in the UAE, you can count on us to have a complete and cutting-edge solution that complements those machines flawlessly.
As the technological landscape evolves, new styles of washing machines are introduced. All the cutting-edge tools at our disposal are useless if our talented crew can't handle any issue, no matter how basic or complicated. Each month, we conduct workshops where our specialists get in-depth instruction on all the aspects of a washing machine, and they leave with the newest equipment to handle any issue. Our diligent preventive measures aid all of our clients in warding off potential catastrophes.
We are Repairing Various types of Washing Machines
Top loading washing machines

Front loading washing machines

Combination units

Compact washing machines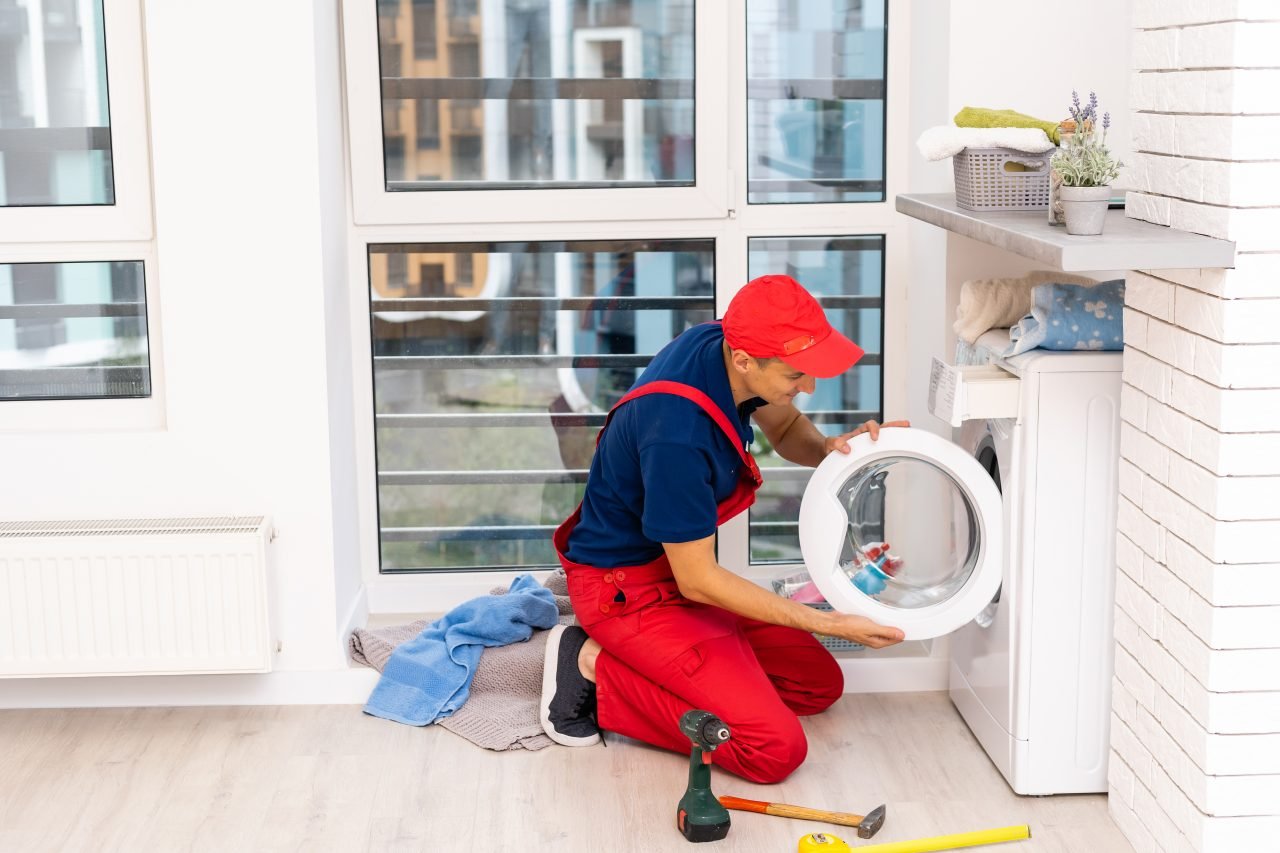 Instant service for washing machine repairs
You may call us, and if our schedule permits, we'll come to repair your machine and get it running again the very same day you call. This means little inconvenience to your daily routine. Home Fix offers highly educated and experienced washing machine technician who will visit to your home with latest repairing tools wherever you are in or around  All over Dubai.We can make effective washing machine repairs on the spot, we have a set rate price that we will mention to you. We provide top-quality services. You can trust us.
Generally We Face these Washing Machine Issues at Home
If you have noticed any problem with your washing machine,  you need to take action fast by calling any expert.
Turn to our team if you notice the following:

Your washing machine is not turning on.

Your washing machine is not spinning properly or at all.

Drain Pump is not working.

Drum makes a noise.

washing machine leaks.

Water is not draining properly.

There is no cold water.

Wash cycles leave spots on clothes..

Wash cycles leave soap in clothes.
The price for repairing washing machines is reasonable in Dubai
We understand that you probably weren't planning on spending a lot of money on your washing machine's pcb, therefore we work hard to find the most affordable option for you. An over-the-phone quote will be provided to you, and it will include a flat rate for labor, so you won't have to worry about any unpleasant surprises.
Just get in contact with us.
For the solution of all these problems you are always looking for a quick and quality service provider. So you can call our Expert team who know the work of these appliances. Directly ask one of our certified professionals any questions you have about residential, industrial, or commercial fridges. With your convenience in mind, we are available every day of the week. Please contact us by phone or the form below to schedule an appointment or for a quote.
Washing Machine Brands Which We commonly Repair