Fridge & Freezer Repair in Dubai
Same day Fridge & Freezer Repairing service in dubai
Keep Things Cool in Your Home:
Fridges and Freezer are extremely best appliances that provide us a facility to save our foods. Fridge repair in Dubai is a common service that is need of every person. Due to Hot Weather in Dubai the whole year fridge is an important Appliance. Whenever you face any issue related to your fridge you want a prefect and Quick service Provider.
The good news is that home fix is providing Same Day Fridge Repair Service in overall Dubai. Our expert team can repair every type Fridge and Freezer either it is a major issue or minor problem.
Home Fix Can Solve any issue like compressor not working, gas leakage , fan motor is not working also we can replace any part related to the problem.
Most Common Issue which our Customer Call us:
Compressor is not working

Fridge is not cooling Properly

Fridge is Leaking Due to drain blockage

Fridge Freezing Food

Fridge Making a Loud Noise

The Fridge Creates Bad Smell
 For the solution of all these problems you are always looking for a quick and quality service provider. So you can call our Expert team who know the work of these appliances.
Fridge Major Parts Which Mostly Get Faulty:
Different Types Of Fridges Which We Commonly Repair:
Top Freezer Fridges

Bottom Freezer Fridges

Side by Side Fridges

Double Door Fridges

French Door Fridges

Mini Fridges

Counter Depth Fridges
Also Home Fix Can Repair Different Types Commercial Ice Makers & Chillers Like as:
Common Issues We Repair in Ice Maker Machines:
Freezer is too warm

Water inlet Valve is defective

Low Water Coming Pressure

Ice Level Control Board fails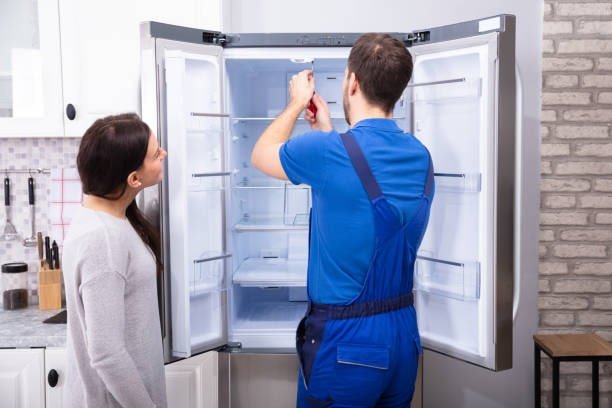 Qualified experts

Fixed and  Reasonable prices

Warranty Services

Special offers

Services according your availability

Quick Service Provider
Fridge, Freezer, Refrigerator & Ice Maker Brands Which We commonly Repair: