Fridge & Freezer Repair in Dubai
Same day Refrigerator Repairing service in Dubai
Fridge Repair Service Dubai
Fridges and Freezer are extremely best appliances that provide us a facility to save our foods. Fridge repair in Dubai is a common service that is need of every person. Due to Hot Weather in Dubai the whole year fridge is an important Appliance. Whenever you face any issue related to your fridge you want a prefect and Quick service Provider.
The good news is that home fix is providing Same Day Fridge Repair Service in overall Dubai. Our expert team can repair every type Fridge and Freezer either it is a major issue or minor problem.
Home Fix LLC can solve any issue like compressor not working, gas leakage , fan motor is not working also we can replace any part related to the problem.
It is easy to schedule an appointment with one of our professionals if you require refrigerator repair in Dubai & All over UAE. You may reach us at any time. In any case, a member of our helpful staff will take down your information and schedule a visit from one of our licensed engineers to your home or business at a time and date convenient for you. As an alternative, you may utilize our simple online booking system. We'll get back to you as soon as possible to confirm that a technician is on their way to repair your refrigerator.
When you call, a member of our polite and knowledgeable customer care staff will take down some basic information from you and ask you questions about your refrigerator (including the make, model, and specific problems you're having with it). Once that's done, a repair crew will be scheduled to come out at a time that's convenient for you and fix the issue.
Our engineer will treat your home and personal belongings with care and courtesy. The technician will examine the appliance and then return to his fully equipped and stocked service vehicle to get the necessary tools and/or replacement components. After they have resolved the issue, they will leave as soon as possible.
Enjoy the benefits of fridge repair service
If you decide to collaborate with us, we'll provide you with the following great benefits:

We're here to help you whenever you need it, day or night, with our Emergency Commercial Fridge Repair Services.

We have the trained personnel to get your refrigerator working again quickly.

We've been repairing broken refrigerators for over 20 years.

It's easy on the wallet to hire us for fridge repair.

Time and money are both conserved.

We are a company that provides services that are entirely covered by insurance.
Problems We Commonly See By Fridges
Having trouble adjusting the temperature due to a malfunctioning thermostat.

The fridge won't turn on because of a malfunctioning start capacitor.

You should replenish the coolant if it becomes low.

Improving efficiency by cleaning dirty condenser coils.

Restoration of functionality to the faulty compressor (your refrigerator's compressor goes through a cooling cycle to maintain a constant temperature).

The voltage is insufficient despite the fact that the home wire is in good working order.

A broken motor that either stops the fridge from starting or makes it turn off abruptly.

The water doesn't get cold enough, and the ice machine doesn't work.

Inadequate refrigeration in the home.

The fridge is making a lot of noise when it's running.

Over time, the engine heats up.

Your freezer has been iced over.

Compressor is not working & Creates Bad Smell

Fridge is Leaking Due to drain blockage
Fridge Major Parts Which Mostly Get Faulty
Different Types Of Fridges Which We Commonly Repair
Top Freezer Fridges

Bottom Freezer Fridges

Side by Side Fridges

Double Door Fridges

French Door Fridges

Mini Fridges

Counter Depth Fridges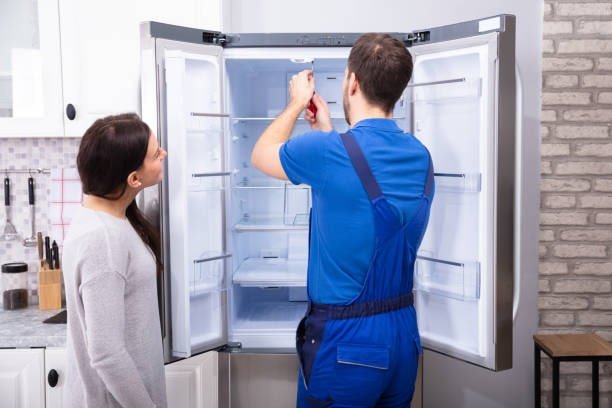 Just get in contact with us.
For the solution of all these problems you are always looking for a quick and quality service provider. So you can call our Expert team who know the work of these appliances. Directly ask one of our certified professionals any questions you have about residential, industrial, or commercial fridges. With your convenience in mind, we are available every day of the week. Please contact us by phone or the form below to schedule an appointment or for a quote.
Fridge, Freezer & Refrigerator Brands Which We commonly Repair