Washing Machine Repair Near Me
Same day Washing Machine Repair service in Dubai
Washing Machine Repair Dubai - Washing Machine Repair Near Me
Home Fix is a leading washing machine repair service provider in Dubai, offering fast and reliable repairs for all types of washing machines. Our team of experienced technicians are equipped to handle any type of issue, from simple repairs to complex diagnostic work. At Home Fix, we understand the importance of a functioning washer in every household. That's why The Home Fix Electronic Appliances Repairing LLC offer same day service and flexible appointment scheduling to fit your busy schedule. Our team will work quickly to diagnose the problem and provide you with a comprehensive estimate before any work is done. We use only high-quality parts and materials for our repairs, and all of our work is backed by a comprehensive warranty. Our goal is to get your washing machine running like new as quickly as possible, so you can get back to your daily routine. At Home Fix, we are committed to providing excellent customer service and ensuring that our customers are completely satisfied with our work. Our team is available 24/7 to answer any questions you may have and to schedule an appointment. So, if you're in need of washing machine repair services in Dubai, look no further than Home Fix. Contact us today to schedule an appointment.
Importance of a Washing Machine
Nowadays Built-In and touch-Based Home appliances are very Demanding By the Customers. Everyone wants a comfort Zone for themselves. so that is why it is very recommended. Washing machines is an important need of every Home. Because the process of washing clothes by hand is very long and tricky. so everyone needs to save their time and effort. As an Auto washing Machine creates a lot of ease as compared to other simple washing machines. Nowadays auto machines have dry and spinning Cloth programs.it is very expensive compared to others. so we need to use it very carefully.
Fast and cost-effective manual and automatic washing machine repairing service in Dubai
Get fast and reliable washing machine repair services in Dubai with The Home Fix. Our experienced technicians are experts in all types of washing machine repairs and maintenance. Whether you need emergency repair services or a routine tune-up, we've got you covered. Our services include troubleshooting and fixing common issues. We also offer same-day repair services for urgent repairs. Call us now or book online for the best washing machine Repair Near Me in Dubai. Trust The Home Fix for all your refrigerator repair needs.
Same Day washing machine repair service:
We can repair all brands and all models. If you need any repair services for:
Bosch Washing Machine Repair

LG Washing Machine Repair

Samsung Washing Machine Repair

Siemens Washing Machine Repair

Whirlpool Washing Machine Repair

Haier Washing Machine Repair

Hitachi Washing Machine Repair

Panasonic Washing Machine Repair

Hisense Washing Machine Repair

Baumatic Washing Machine Repair
and any other brand else from this we can repair. please do not be hesitate if you need any repair service regarding any home appliance. we can provide you same-day repair service at your doorstep. Fast and cost-effective Manual and Automatic Washing machine repair service in Dubai. our company has heavy and modern machinery for inspection. first team will go to your home. your office or your store wherever you need to repair your Washing machine. our expert technicians carry multiple Appliances in vehicles safely.
Problems We Commonly See By manual and automatic washing machine
Some common problems that we commonly see in manual washing machines include:
Difficulty in filling the machine with water

Difficulty in draining the water

Difficulty in agitating or spinning the clothes

Leaks or drips from the machine

Unusual noises during operation
Some common problems that we commonly see in automatic washing machines include:
Difficulty in starting the machine

Error codes or flashing lights on the control panel

Leaks or drips from the machine

Unusual noises during operation

Clothes coming out still dirty or damp

Failure to fill with water or drain

Unbalanced load causing machine to vibrate excessively or stop working
Washing Machine Repair Dubai - 050 466 3349
Affordable – Reliable – Trusted Washing Machine Repair Company In Dubai
You Can call us directly for any inquiry at 050 466 3349
Our Technician will Visit and Check Problems
Check for leaks and check for any visible signs of damage or wear on the machine

Check the door seal to ensure that it is tight and not allowing water to leak out

Check the water inlet valve to ensure that it is functioning properly and allowing water to enter the machine

Check the drain pump to ensure that it is functioning properly and allowing water to be drained from the machine

Check the control board to ensure that it is functioning properly and that all of the settings are correct

Check for any clogged hoses or drains that may be preventing water from flowing properly

Check for any unbalanced loads that may be causing the machine to vibrate excessively or stop working

Check for any unusual noises during operation

Check for error codes or flashing lights on the control panel

Check for any other issues that are reported by the customer
Types of washing Machine we can repair
Top-loading washing machines

Front-loading washing machines

Portable washing machines

Semi-automatic washing machines

Fully-automatic washing machines

Stackable washing machines

All-in-one washer-dryer machines

Commercial washing machines
Our service process is very short and our charges are very reasonable.
AED 150 Service call-out fee includes all repairing and pick-up and delivery.

And also install the fridge in overall

No Call-Out Fee in Warranty Period.
Minimum Charges as Call out in nearby areas.
just save the home fix contact number & call us at 050 466 3349 and book our service for your washing machine repair or you can make online appointment within 15 seconds For any repairing query regarding your Appliance. you can feel free to talk with us. we will send our team at your desired location. They will do an inspection first they will try to fix it at your location. if it is not possible then they will bring it at warehouse. We are available 24/7  to serve you. we hope to be your first choice for any other electronic repair by Home fix LLC.
Looking For Best Repairer In Dubai - The Home Fix LLC
Are You looking for the Best washing Machine Repair in Dubai? Home Fix will arrange an expert team for your home visit according to your convenient time. we deal with all types of washing machine and dryer repair and fixing. We provide a huge stock of genuine spare parts in our warehouse. We give same day  repair service in Dubai anywhere And We provide home services for washing machine repair , With best prices to our customers With Warranty. We provide professional technicians, And We provide free pick and drop service in Dubai anywhere. We will provide you with all problems solutions at your home regarding your washing machine. In Our Warehouse We have backup stock of different washing machine companies' original spare parts in our warehouse. We also try to ensure we deliver on the doorstep the same day as our customer anywhere in Dubai.
You can Search by Online - Thehomefix.ae
Washing Machine Near me
washing machine repair in Dubai
washing machine repair Dubai
same day washing machine repair
Low-cost washing machine repair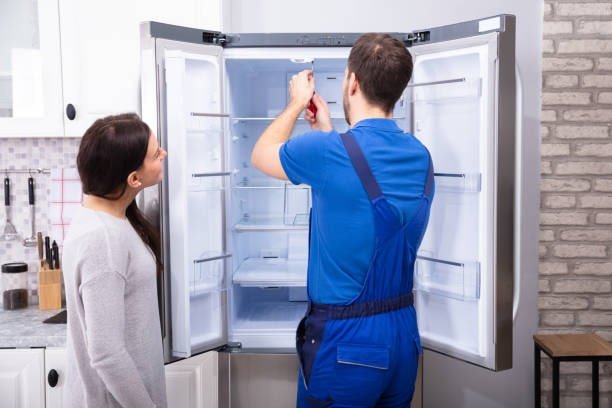 Just get in contact with us.
For the solution of all these problems you are always looking for a quick and quality service provider. So you can call our Expert team who know the work of these appliances. Directly ask one of our certified professionals any questions you have about residential, industrial, or commercial fridges. With your convenience in mind, we are available every day of the week. Please contact us by phone or the form below to schedule an appointment or for a quote.
Washing Machine Brands Which We commonly Repair