Same day Fridge Repair service in Dubai
Fridge Repair Dubai - Fridge Repair Near Me
Every Home Appliance Has a lot of value. A Fridge is very important that we need at home especially when we have a lot of food for storing and cooling. In Hot Areas Fridge is the most demanding Home Appliance As In Dubai. Because in hot weather you need refreshing cool drinks. Due to your damaged or faulty fridge, you could not chill. If you Living In Dubai and you have any issues with your Fridge. It is a very worst situation.Fridge Repair in Dubai Is a service that everyone needs.you will defiantly look for an expert and quick service but you do not need to worry about this. just save Home Fix Appliances repairing Number and call us.We are just one call far from you.if you have any issue with your fridge call us Home Fix provides Fridge repair In Dubai Service. we are the one best company in Dubai with 5 years' experience. we have certified & Trained Technicians. We deal in all kinds of Home Appliances Repair Services in Dubai and the entire UAE. Home Fix Dubai is that the most trusted and reliable company in Dubai to repair your fridge or refrigerator at low cost.
Fast and cost-effective fridge or refrigerator repairing service in Dubai
Get fast and reliable fridge repair services in Dubai with The Home Fix. Our experienced technicians are experts in all types of refrigerator repairs and maintenance. Whether you need emergency repair services or a routine tune-up, we've got you covered. Our services include troubleshooting and fixing common issues such as compressor problems, leaks, and temperature control issues. We also offer same-day repair services for urgent repairs. Call us now or book online for the best Fridge Repair Near Me in Dubai. Trust The Home Fix for all your refrigerator repair needs.
Same Day fridge repair service:
we can repair all brands and all models. if you need any repair services for :
Baumatic Fridge Repair

Elekta Fridge Repair

Elekta Fridge repair

Hisense Fridge repair

Bosch Fridge Repair

Noble Fridge Repair

super General Fridge Repair

Whirlpool Fridge Repair
and any other brand else from this we can repair. please do not be hesitate if you need any repair service regarding any home appliance. we can provide you same-day repair service at your doorstep. Fast and cost-effective fridge or refrigerator repair service in Dubai. our company has heavy and modern machinery for inspection. first team will go to your home. your office or your store wherever you need to repair your fridge. our expert technicians carry multiple Appliances in vehicles safely.
There are different types of issues that can occur in a fridge like as
Gas refilling

Gas leakage

Low Cooling

Stop Cooling

compressor Repair or replacement

Fused light bulb

Door light Issue

Wiring Issue

Condenser Issue

Filter Dryer Issue

Water Leakage

Defrost Parts Faulty

Gas Kit Issue

Something Broken

Fridge Creating Bad Smell
or More Services we are providing for fridge repairing and maintenance like as
flushing

Breezing

Vacuuming
Is the fridge utilizing a lot of power?

Is the fridge blower working?

The entryway seal or entryway gasket is turned or not?

Any leakage in the fridge?

If the fridge isn't making ice any longer?

There is no water in the allocator?
If you have any issue with your fridge call us. We will deal with every problem regarding your fridge. As we have the best staff for fridge repairing. 
Problems We Commonly See By Fridges
Having trouble adjusting the temperature due to a malfunctioning thermostat.

The fridge won't turn on because of a malfunctioning start capacitor.

You should replenish the coolant if it becomes low.

Improving efficiency by cleaning dirty condenser coils.

Restoration of functionality to the faulty compressor (your refrigerator's compressor goes through a cooling cycle to maintain a constant temperature).

The voltage is insufficient despite the fact that the home wire is in good working order.

A broken motor that either stops the fridge from starting or makes it turn off abruptly.

The water doesn't get cold enough, and the ice machine doesn't work.

Inadequate refrigeration in the home.

The fridge is making a lot of noise when it's running.

Over time, the engine heats up.

Your freezer has been iced over.

Compressor is not working & Creates Bad Smell

Fridge is Leaking Due to drain blockage
Fridge Repair Dubai - 050 466 3349
Affordable – Reliable – Trusted Fridge Repair Company In Dubai
You Can call us directly for any inquiry at 050 466 3349
A fridge is an important part of daily life in Dubai. Due to the hot weather in Dubai, the fridge is a mostly used appliance in Dubai. Our expert technicians can troubleshoot every problem in the fridge or freezer. Home Fix is looking forward to having Better Relations with customers. Through Best service and top quality Skills. We hope to be your first choice for any other repair at your Home.
If you are running a small or large business. Or you run a restaurant. Maybe you are running a food café or cold drink sailing business. Or if you are running a hotel. then you must have a big refrigerator or fridge. We provide complete service and repairs for all of your commercial refrigeration equipment.  Our technicians are very skilled And have vast experience dealing with commercial appliance repairing. we can fix it at a very reasonable cost.
we can fix all your commercial appliances
Refrigerators

Freezers

Ice Makers

Commercial Coolers

Walk-In Coolers

Walk-In Freezers

Bottle Coolers

Wine Coolers

Undercounted Refrigerators

Undercounted Freezers

Wine Refrigerator

Chillers
Types of Fridges we can repair
Side By Side Fridge or refrigerators

Top Freezer Fridge or refrigerators

Below Freezer Fridge or refrigerators

Freestanding Fridge or refrigerators

Built-In Fridge single door Fridges or refrigerators

One Door Fridge or refrigerators

Double Door Fridges or refrigerators

Triple Door Fridges or refrigerators

side by side Fridges or refrigerators

French door Fridges or refrigerators

top freezer Fridges or refrigerators

bottom freezer Fridges or refrigerators
Our service process is very short and our charges are very reasonable.
AED 150 Service call-out fee includes all repairing and pick-up and delivery.

And also install the fridge in overall

No Call-Out Fee in Warranty Period.

Minimum Charges as Call out in nearby areas.
just save the home fix contact number & call us at 050 466 3349 and book our service for your fridge repair or you can make online appointment within 15 seconds For any repairing query regarding your Appliance. you can feel free to talk with us. we will send our team at your desired location. They will do an inspection first they will try to fix it at your location. if it is not possible then they will bring it at warehouse. We are available 24/7  to serve you. we hope to be your first choice for any other electronic repair by Home fix LLC.
You can Search by Online - Thehomefix.ae
Fridge repair Dubai
Fridge Repair near me
Fridge Repair near me in Dubai
Freezer and fridge Fix Near Me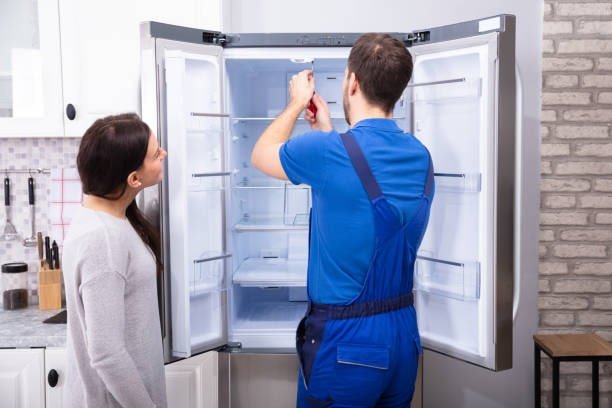 Just get in contact with us.
For the solution of all these problems you are always looking for a quick and quality service provider. So you can call our Expert team who know the work of these appliances. Directly ask one of our certified professionals any questions you have about residential, industrial, or commercial fridges. With your convenience in mind, we are available every day of the week. Please contact us by phone or the form below to schedule an appointment or for a quote.
Fridge, Freezer & Refrigerator Brands Which We commonly Repair